Great Barrier Reef Cruise to Quicksilver Port Douglas Pontoon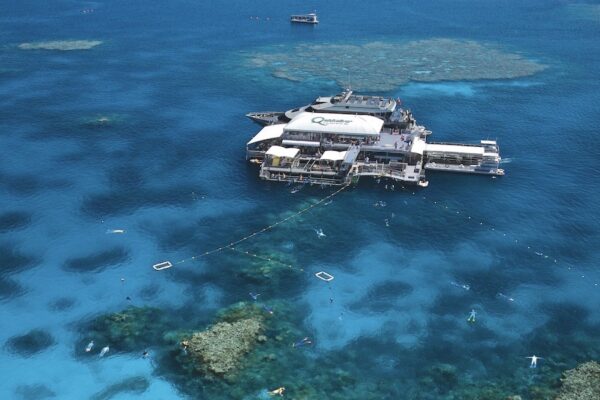 Discover a world of beauty, vibrant coral gardens and diverse marine life when you experience the Outer Barrier Reef on this Quicksilver Port Douglas reef tour. Jump aboard the high-speed wave-piercing catamaran and cruise in air-conditioned comfort to the world-famous Agincourt Reef known for its stunning coral formations, colourful marine life and underwater visibility.
The Port Douglas Quicksilver cruises reef tour will dock at the spacious reef activity platform where you join a semi-submersible tour, go snorkelling and sit in the underwater observatory and marvel at the marine life swimming on by. The friendly and attentive crew, including professional marine biologists, are on hand to ensure you gain the most from your day out on the Barrier Reef. Exciting optional activities such as introductory and certified diving, helmet diving, marine biologist guided snorkel tours and scenic helicopter flights can be booked on the day. And, a delicious tropical buffet lunch is included while you are out on the reef.
If you are looking for a Port Douglas reef tour to suit swimmers and non-swimmers then this one is an excellent choice with activities to suit travellers of all ages and abilities. Tick the Great Barrier Reef off your bucket list and book yourself onto this award-winning Port Douglas reef tour here.